Pina at Über Das Neue, Belvedere 21, Vienna
Ivan Cheng, Christiane Heidrich, Iku, Evelyn Plaschg & Marielena Stark, Julius Pristauz, Daniel Rajcsanyi & Nils Amadeus Lange, school
03.05.
Julius Pristauz
15.05.
Ivan Cheng
Evelyn Plaschg & Marielena Stark
24.05.
Christiane Heidrich
Iku
31.05.
Daniel Rajcsanyi & Nils Amadeus Lange (school)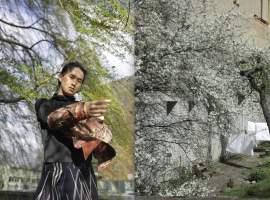 From May 3rd to June 2nd, 2019, Pina will be hosting performances, lectures and concerts at Belvedere 21 in frame of the exhibition Über das Neue (about the new). Objects and props used during each of the performances will be left behind for the purpose of documentation and renarration.
Julius Pristauz (*Graz) currently lives and works in Vienna. Alongside his independent artistic practice, Pristauz freelances as a curator, editor and journalist for contemporary culture and is currently studying Transmedia Art in the class of Brigitte Kowanz at the University of Applied Arts in Vienna. He is one half of the artist duo GANICA STAUZ alongside Amar Priganica and part of EXILE Gallery in Vienna.
Ivan Cheng is an Australian artist who focuses within his practice on misunderstanding, abrasion and desire in the act of reading, often gesturing towards systems of power and reproduction. Recent presentations include Oude Kerk (Amsterdam), MuHKA (Antwerp), Frans Hals Museum (Haarlem), Campbelltown Arts Centre (Sydney). He also initiates project space bologna.cc in Amsterdam.
Evelyn Plaschg (*1988) lives and works in Vienna as a visual artist and musician. Recent exhibition projects include "Emptied Vision" at Vienna Tower, "Alchemy" at Galeria Acapella in Naples and "How far to open up?" at Forum Stadtpark in Graz.
Marielena Stark (*1986) is an artist who lives and works in Vienna. She is part of the fashion label Altinstark and the band Die Süsen Mäuse.
Christiane Heidrich (*1995, Karlsruhe) lives in Vienna. She studies fine arts at the State Academy of Fine Arts in Stuttgart and language arts at the University of Applied Arts in Vienna. Her first book of poetry, "Spliss", was released by kookbooks (Berlin) in 2018.
Johanna Odersky is a visual artist and musician based in Frankfurt. Her musical project Iku complements her sculptural work, exploring the silhouettes separating internal and external worlds. She uses associative sampling, often densely layered and interwoven as a play between a clear and a failing perception. She most recently released her EP "Body Horror" with Berlin-based Creamcake and will release her new Album with Vienna-based AMEN in May 2019.
school is a space and collective, founded 2011 by Yasmina Haddad and Andrea Lumplecker. school's principal series PERFORMATIVE SCREENINGS focuses on the screening as a frame, and defines a specific realm within selected artistic positions that employ performative strategies and relate to (political) realities.
Daniel Rajcsanyi is an artist based in Vienna. Performative strategies are commonly employed as tools in his multidisciplinary work.
Nils Amadeus Lange works as a performer and choreographer in Zürich. He uses his body as a weapon with which he pierces through his audience's heads, in order to subsequently dissect memories of conventions, role models and gender stereotypes from their brains.
Pina is a non-profit exhibition space in the fourth district of Vienna. Since February 2017, it is run by Bruno Mokross and Edin Zenun.